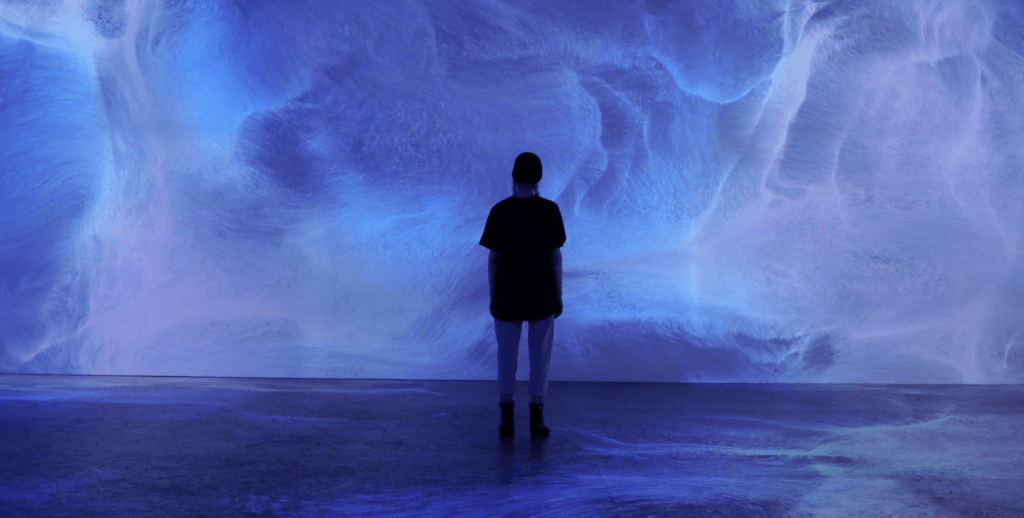 By Desilence and Planets of the Sun
commissioned by Lighthouse of Digital Art
See our new immersive show: SEHNSUCHT. For the first time, the renowned artist duo Desilence can be seen in Berlin.
Here's what you can expect: a 45-minute multidimensional audio-visual journey through 6 emotions in a unique immersive room experience.
About SEHNSUCHT
There are no emotions without thought or reason. Our emotions are the product of the way we interpret what is happening around us. They are at the core of who we are, but there are emotions that – when they find no answer in language – become too confusing to explain.
Romanticism explored all kinds of emotions, some familiar and some completely unfamiliar. One of them is Sehnsucht – a German word that indicates a certain longing for something intangible, the search for something indefinite in the future. That is to say, the desire without a clear objective, the constant longing that leads the human being to never settle for what he or she achieves or possesses, but always pushes them towards new goals.
Throughout these last two complicated years, we have yearned for an imaginary future. Better than the previous one but inevitably undefined and we have all felt powerful emotions – Contemplative, curiosity, anxiety, calm, rage, happiness. Each of us has experienced them in very subjective and personal ways.
They are the starting point for this creation that has been reduced into one single word: "Sehnsucht"
How do emotions relate to sound?
Since the dawn of humanity, we have been immersed in sound. It has shaped our perceptions and evolution. Sound exists as an integral part of our being and colours every instant of our lives. Every breath and every heartbeat has a sound: Life itself is a symphony.
Through joy and distress, meditative calm and victorious exhilaration, between Earth, Sky and ocean, we bask in the auditive patterns of ebbs and tides, birth and rebirth.
Every sound triggers an emotion and demands a response.
"I want to express my feelings rather than illustrate them" – Jackson Pollock
About the installation and the process
It is a 3D real-time 'art engine' allowing us to perform and connect our abstract visuals to the music in many different ways emotionally and visually. Applying organic movement, growth, colours, shapes – plasticity on demand. Like conducting an orchestra of fine artists to the rhythm of the music.
Embracing the extensive theme of moving through emotions to explore the late Romantic concept of longing, the relationship between music and the sublime was sought at the very beginning.
The initial approach consisted of a conceptual attempt to create an underlying ambient carpet from an early render of the proposed visual work. This was achieved through algorithmic waveshape generation and wavetable synthesis.
From there, scales and modes and rhythms were explored to build evocative melodies and an audio narrative. Every chapter of this emotional journey reflects an altered state of mind and being.
Throughout the process, the visual artists made use of the growing soundtrack to orchestrate their visual instrument.
This monumental task has been a beautiful opportunity to explore the relationship between visual and auditory patterns and their impact on human emotions.
About the artists
Tatiana Halbach (Barcelona) and Søren Christensen (Denmark) are the creative force of Desilence.
Since 2005 they have been carefully creating by the name 'Desilence' – Big stage shows, live visuals, visual scenography, musicals, dance performance, installations, their portfolio reaches wide.
At the core of Desilence are the love for painting, for the hypnotic movement, for the beautiful and well-thought-out idea. The unceasing perseverance to find the balance.
The visual work of our show has been made by Desilence.
Planets of the Sun is a Berlin-based audio designer, exploring conceptual and organic techniques with an emphasis on ambient cinematic soundscapes.
The audio work of SEHNSUCHT has been done by Planets of the Sun.
WARNING: This exhibit may potentially cause seizures in persons with photosensitive epilepsy.